Welcome aboard the USS Crown NCC-82001




The year is 2390. Starfleet continues with its primary goal of peaceful exploration and contact with new species, while maintaining the security of the Federation, its colonies, and its allies. To rise to these challenges Starfleet has commissioned a new class of multi-purpose vessels known as the Insignia class.

The USS Crown is the newest of this class. Her unique, modular design enables her to quickly adapt to changing requirements, depending on the needs of the service and the people of the Federation. On one mission she may be outfitted with advanced sensor and research packages to make her a science vessel. Then she could swap out those modules with new ones containing prepackaged medical and humanitarian supplies for disaster relief on some far-away world. After that she may swap modules yet again to ready her for routine defense patrols, or to serve as an ambassador's ship, or to ferry colonists. The mission possibilities are nearly limitless.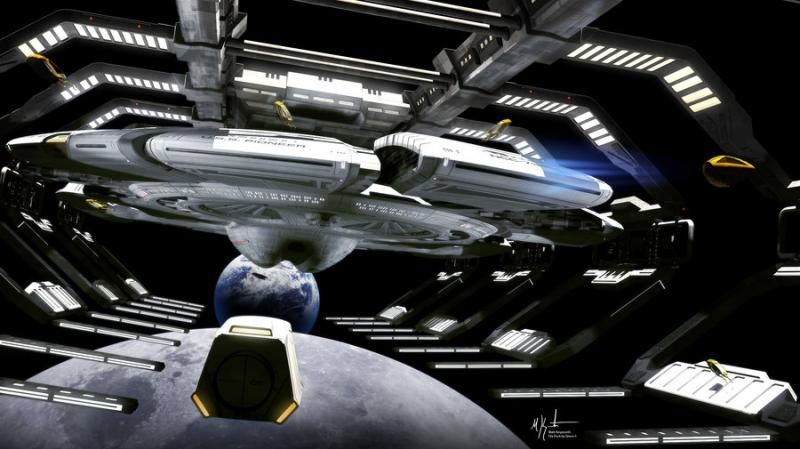 We are currently assembling a crew for this ship's maiden voyage. If you're interested in collaborative writing with other dedicated Star Trek fans who want to boldy go, then consider joining us. We would love to have you!
Latest News Items
Posted on Friday December 6th, 2013 @ 4:46am by Lieutenant JG Michael Cross in General News
Wanted to let everyone know that I created a Tactical addition to the LCARS database. Hopefully it will be a good source of information.
Posted on Thursday December 5th, 2013 @ 1:03am by Commander T'Zera in General News
Okay Guys,

It's that time of year again. We are approaching the end of the year and that means that the ballot boxes are now open for your nominations for the Character of the Year, William Riker XO of the Year and James T Kirk CO of the Year awards.
Please pass this onto your crews so they can decide if they wish to nominate anyone, T*CO's i suggest you wait for a little while before sending in your CO of the year nominations so as to give the CO's and crew in your TG's a chance to submit nominations if they wish.
Character of the Year
How to nominate – COs nominate to the Fleet Services Director. Members of crews can also nominate anyone they feel deserving of this award. These nominations must be approved by the sim's CO. Only one nomination can go forward from each sim.

More info here - http://www.obsidianfleet.co.uk/index.php?option=ifs&task=common&action=common&lib=adet&award=38


William Riker XO of the Year

How to nominate – nominate to the Fleet Services Director. Members of crews can also nominate any of their XOs they feel deserving of this award. These nominations must be approved by the sim's CO.

More info here - http://www.obsidianfleet.co.uk/index.php?option=ifs&task=common&action=common&lib=adet&award=39


James T. Kirk CO of the Year

How to nominate – Task Force COs and Task Group COs nominate a CO under their command to the Fleet Services Director. They can approve nominations made to them by individuals or crews, but only one nomination can go forward from each TG (TGCO's come under TG Indie in their TF and TFCO's come under IFO).

More info here - http://www.obsidianfleet.co.uk/index.php?option=ifs&task=common&action=common&lib=adet&award=40
Sim of the Year is chosen from the sims that won each of the preceding 12 months' Gold Unit of Merit awards.

Once all nominations are in, the Fleet Services Director will compile a list for the Fleet Council to vote on. All nominations must be in by the 11th of January.
If any of you have any questions please do not hesitate to contact me on services@obsidianfleet.net

Regards,

--
______________________________________

Rear Admiral Darren Thompson
Director of Fleet Services
Obsidian Fleet
Posted on Friday November 29th, 2013 @ 9:55am by Commander T'Zera in General News
Hello, all. I'm sad to announce that the player behind Counselor Hart has resigned, owing to other responsibilities. He'll try to rejoin us somewhere down the road. He's always welcome here.

But happily, no sooner did we lose an old counselor when a new one stepped forward. Or more accurately, a former player who has returned to take up the counselor position as we work on bringing an end to our first mission. Please welcome Lt (JG) Lana Ling, who comes aboard as one of the Santiago survivors. Please make the Counselor feel at home with JP offers.

Wait, did somebody say something about the mission ending? Yes, I am now steering us toward a resolution to "The Ghost World," in hopes that I can give this crew a well-deserved break as the December holidays draw near. Or at least I'm attempting to do so. And deserve it you do. It's been an ambitious story that requires quite a bit of focus and doesn't leave any time for "Ten Forward" or holodeck type posts. You know, the fun stuff. But you all have stuck to it and showed the can-do attitude and have crafted a great Star Trek adventure that we'll be proud to call our first mission. So again, I thank you all for the heart and hard work that you have poured out into the writing control panel. Your talents inspire me and have lifted me on the tough days. And I promise that Mission 2, whenever we start on it, will be something different, but still very cool.

So another month comes to a close. I've had awards on my mind this past week. I'll be giving them out again over the weekend. And again I ask that you consider nominating some of your shipmates. Thanks and keep up the good work.

CO
Posted on Tuesday November 26th, 2013 @ 12:29am by Lieutenant JG Douglas Mackay Mr in Website Update
Hey Folks

Just a Quick note, You may have by now noticed the new tab below your Dashboard titled "LCARS Database". Thanks to the skipper we now have an integrated Wiki page on our Sim. It is still a Work In Progress however if you have any suggestions/ Requests for new pages and or comments please feel free to Message me and ill get to work on implementing them.

Right now we only have 1 page namely a brief Record on the Late USS Santiago feel free to take a look and give your comments and suggestions and yes i know the NCC Reg is wrong on the pictures, they are place-holders which i have yet to fix.

Kind Regards

Karl Thorne
AKA Douglas Mackay

Posted on Thursday November 21st, 2013 @ 7:23am by Lieutenant Commander Aleran Ral in General News
Hey everyone,

I've noticed that some of you don't have character images, if that's by choice cool. However if you want one and just don't know how to go about finding one or finding someone to help you out with one here are two sites that can help you out with that. They have pre-made images along with request sections where you could ask for a specific image.

http://stavatars.net/

http://stpma.net/

Good Luck


Latest Mission Posts
Mission: The Ghost World
Posted on Wednesday December 11th, 2013 @ 8:01pm by Lieutenant JG Richard Kwasniewski
It was of no consequence... The small number of drones he sent to help aliens repair the Discovery, couldn't affect the overall picture.

He was working his best, calculations... Planing... Planing, yes he had a lot of that before him. What would he do now?

He couldn't help to think…
Mission: The Ghost World
Posted on Wednesday December 11th, 2013 @ 4:23pm by Lieutenant JG Douglas Mackay Mr & Lieutenant JG Michael Cross & Lieutenant JG Summer Amoran & Lieutenant JG Lana Ling
[ON]

Mackay was slid into sickbay on a gurney fading in and out of consciousness. He was heavily concussed and he was suffering the effects of decompression sickness after being exposed to a 'soft vacuum' while in Santiago engine room

Summer pushed the controls on the hover-gurney which raised Mackay…
Mission: The Ghost World
Posted on Wednesday December 11th, 2013 @ 4:19pm by Commander T'Zera & Mission NPC Julien Gérard & Romulan Commander (NPC) Ariennye Neral & Lieutenant JG Michael Cross & Lieutenant JG Jennifer Taylor
[PREVIOUS]

Jenny was checking her tricorder, switching between different scan modes to see whether she had overseen something.

Then T'Zera recalled that security crewman Hoffman had been able to see the animals by setting his rifle scope to scan for tetryon emissions. "Taylor," she said quietly, "scan for tetryon emissions."…
Mission: The Ghost World
Posted on Tuesday December 10th, 2013 @ 6:27pm by Mission NPC Lauren Hawkins & Lieutenant JG Richard Kwasniewski & Lieutenant JG Douglas Mackay Mr & Chief Warrant Officer Calvin Anderson
ON:

With the pain from his former dislocated shoulder subsiding, Mackay was returning to work however not quite on the ship he was hoping.

It seems that on this mission he is progressively working on older and older ships. First a ship comparable to a classic sports car: the Santiago,…
Mission: The Ghost World
Posted on Tuesday December 10th, 2013 @ 3:04pm by Senior Chief Petty Officer Chor-Karral of the Star Clan
ON:

Chor-Karral was so highly displeased with the current situation, that he could barely concentrate in the tasks at hand. To make matters worse, some Tellarite lieutenant started screaming orders like mad...

Now Chor was looking at the latest data from shuttle repair, and he was more than unhappy. During…
Latest Personal Logs
Posted on Tuesday November 26th, 2013 @ 9:01pm by Commander T'Zera
Captain's Log Supplemental:

Following our hastily assembled staff meeting we were hailed again by Commander Neral. She agreed to our terms to beam aboard, and brought with her two of her crew, a science officer and A Reman centurion for "personal protection." I met them in the transporter room along…
Posted on Saturday November 23rd, 2013 @ 8:55pm by Lieutenant JG Michael Cross
We've just been in a major battle, with heavy losses on both sides. My thoughts go to my wife and children. I was supposed to rendezvous with them Myself the Captain and Horace are in Sick Bay at the moment having our injuries treated. Anxiety is thick in the air,…
Posted on Saturday October 5th, 2013 @ 8:25pm by Lieutenant Njikes Karulean
(Just before the Mission: the Ghost World begins)

Karulean drifted aimlessly along the docking ring, he knew that, sooner or later, he would come to the berth where the USS Crown was docked. But he was in no hurry, he had time and it was relaxing to watch the various…
Posted on Thursday October 3rd, 2013 @ 5:33pm by Commander T'Zera
Captain's Log, Stardate....Correction, Calendar Date: 19 December 2161.

The USS Crown has arrived on station orbiting the planet known as Veruul VI. In order to get inside the planet's cloak we had to come in closer than standard orbit. Our current altitude is 110 kilometers above the planet's surface, right…
Posted on Friday August 16th, 2013 @ 2:04am by Lieutenant JG Gregor Plantis
Returning back to the Security department, Gregor still had in his mind the thoughts of what could possibly await them when the visited the area around the hidden planet. The information they had was sketchy at best, and he couldn't help but feel a niggle at the back of his…